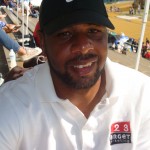 Earl Hall is the Government Contracting Officer focusing on 123 Target Marketing Goverment & Corporate Business Development, as well as, certifications and contract vehicles.
Earl is known for his charasmatic, relationship building skills. Prior to coming on board with 123 Target Marketing, he worked for FedEx, P&H Detailing, as well as, YMCA – Marin County.
In Earl's spare time he is very active in with his 2 boys and loves all things related to sports!